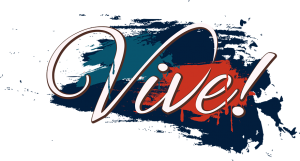 Vive! En hundra dagar till revolutionen tar publiken till födelsen av den franska revolutionen.
En ung frihetskämpe Vivienne anländer till Marseille och försöker sparka ett frö av Rebellion i de förtryckta städerna.
Stående mellan henne och revolutionen är emellertid Chief Constable Abel Const, Marseille och Jacques Law, och Jacques, en hämtar långtidskriminell.Kan Vivienne resa sig upp till Elfenbenstornet och förhandla med ädelstenarna över folket?
Är hennes drömmar om revolutionen hotad av oväntade kärlek?
Varför misslyckas Jean-Baptiste, den mest eländiga gatukörnet i hela Marseille, som han tuggar på en gammal sko?
Vive! – Ett hundra dagar till revolutionen en berättelse om kärlek och kollisionen av världsutsikt. Vad har du offrat för dina drömmar?
Vive! – One hundred days to Revolution takes the audience to the birth of the French Revolution. A young freedom fighter Vivienne arrives in Marseille, trying to spark a seed of rebellion in the oppressed townsfolk. Standing between her and the revolution, however, is chief constable Abel Const, the law and order of Marseille, and Jacques, a fetching long-time criminal.
Can Vivienne rise up to the Ivory Tower and negotiate with the nobles ruling over the people?
Are her dreams of revolution threatened by unexpected love?
Why does Jean-Baptiste, the most miserable street urchin in all of Marseille, smile as he chews on an old shoe?
Vive! – One hundred days to Revolutiona story about love and the collision of world views. What have you sacrificed for your dreams?
And as a general description:
Fyysikkospeksi is a spex (an interactive student musical) produced mostly by physics students at Aalto University, Helsinki, Finland. We produce a three-hour show every other year. In 2017 we have five shows in Helsinki in Finnish. We are the only bilingual spex in the world, with one English show in Helsinki and another in Stockholm as well.
https://www.fyysikkokilta.fi/speksi/
https://www.facebook.com/Fyysikkospeksi/
https://www.instagram.com/fyysikkospeksi/